1-on-1 Executive Function Coaching
Stop the Anxiety & Frustration Surrounding Your Child's Learning
Your child deserves the opportunity to thrive, inside and outside the classroom. Their brain needs the scientifically-proven benefits of Kaizen's unique 1-on-1 coaching.
Build Confidence & Independence
Coaching Matched to Specific Needs
Understand How Your Child Learns Best
Are you worried that your child's learning needs are not being met?
Is your child not reaching their full potential?
Is your child missing the attention they need to succeed in school?
Are you feeling frustrated and unable to help your child?
1-on-1 Coaching Customized to Support Your Child and Their Unique Learning Needs
Your child deserves a learning program that is built specifically for them.
As part of the Coaching Intake Process, we thoughtfully create a unique and specialized coaching program that combines your child's strengths with the essential learning skills necessary for success in and out of the classroom.
Personalized Online Toolbox:
Expert strategies that make learning, homework, and studying easier and more efficient.
Match Teaching to Learning:
Harmonize your child's learning environments so educators understand how to support their needs.
Unlock Their Full Potential:
Reduce learning frustration, anxiety, and inefficiency to help your child realize their goals in school and beyond.
1 Teacher for 30++ Students
In a typical North American classroom, you can expect your child to be one of at least 30 students. One of thirty-plus bright, inspiring, growing, and developing minds, each with their own set of skills, passions, tendencies, and challenges.
A single educator overseeing an entire classroom of blossoming students, following an explicit curriculum, does not have the capacity or resources to be able to adapt to each and every child's individual needs.
Even an investment in private education, which is where Kaizen got its start, does not provide the necessary access to understanding and developing Executive Function Skills in each one of their students.
Children with compromised or delayed Executive Function Skills can display very challenging behaviours for which they are often blamed, sometimes called "lazy", or "unmotivated". In most circumstances, however, it is the protracted development of the prefrontal cortex that is to blame. Efforts to help affected children develop better Executive Function Skills and adjustments of the demands placed upon them to avoid overtaxing their capabilities are much more helpful than punishment for difficult behaviour.
It is not your fault as a parent.
In a personalized learning environment, we coach your child to help them build their Executive Function Skills, and teach them strategies unique to their brain and their learning style that will foster their growth both in and out of the classroom.
We have developed a viable and proven methodology based in science to teach students the tools required to adapt and succeed in an ever-changing environment.
Kaizen Coaches are advanced educators with years of experience who have been specially trained to support students with Executive Skill deficits and learning differences. Our Coaches are uniquely certified to integrate Executive Skills training with specific course content, empowering students to succeed beyond academics. Teaching your child how to best utilize and further develop their Executive Skills allows them to flourish across their curriculum and into their daily lives. We have proudly become the go-to resource for an ever-expanding network of registered psychologists and general practitioners who have deferred to us to address the full spectrum of learning difficulties, including ADHD, and the impact students experience not only at school, but in everyday life.
Get Started with Your Child's Customized Coaching Plan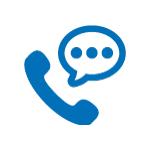 Book Your Intake
Contact Kaizen to set-up an assessment that identifies your child's specific learning needs, and answer any questions you may have.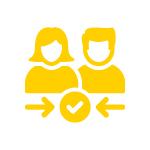 Meet Your Coach
Your child is carefully matched with the best Kaizen Certified Coach to support their specific learning strengths and challenges.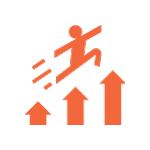 Get Results!
Your child will conquer their learning struggles by knowing how their own, unique brain works.
1-on-1 Coaching is Exceptionally Effective for Developing the Skills Necessary for Learning and Life
As part of the Virtual Intake Process, a unique and detailed coaching plan, highlighting 2 – 3 areas of immediate focus, is created for your child and shared with both you and your child's specifically selected coach.
Students are matched with coaches based on various criteria, including personality and experiences, so that a genuine connection best serving your child's unique strengths and opportunities for growth can lay the foundation for success.
Your Kaizen Coach will work with you to schedule your child's online sessions, which typically run 1 hour in length on a weekly basis. Most students work through their Kaizen Coaching Plan in 15 – 20 sessions, eventually covering all areas of Executive Function Skills, using their specific course content to practice these newly acquired skills.
Kaizen exists BECAUSE our students differ and there is no prescriptive one-size-fits-all solution – these particulars vary. Your coach will work closely with your child to ensure they are receiving the guidance and support they need.
Kaizen coaches pride themselves in keeping parents and caregivers involved and informed so that growth and learning can be supported and celebrated at home. With parents' permission, we are also happy to work with teachers, counselors, psychologists, learning strategists, or any other key stakeholders involved in your child's learning plan by providing them with session reports, sharing resources, and receiving feedback on your student from the predetermined participants.
1-on-1 Coaching sessions are conducted either online via Zoom or Google Meet. In some cases, in-person coaching is available at Kaizen Headquarters in Calgary.
Within 48 hours of completing a scheduled session, your Kaizen Coach will provide you with a comprehensive Session Report (via email) from our customized software program that details how your child is doing, how engaged they are, topics covered, any concerns, assigned UpGrade work, and next steps.
Once your child has worked through their specified curriculum, they will transition to their very own maintenance plan, to ensure all the incredible work completed by your child can be sustained.
Frequently Asked Questions
Below is a list of answers to our most commonly asked questions. If you can't find the answer to your question, please contact us and we'll get right back to you.
What is a Session Report?
A Session Report is a summary of your child's coaching session.
Kaizen Coaches spend a significant amount of time summarizing each session they have with each student, providing parents with a detailed account of what happened during the session, and plans for next steps, including assigned UpGrade work. This keeps parents in the loop as well as provides students with built-in accountability checks. Session Reports are sent through our customized software application, to the email(s) provided.
What is UpGrade work?
Simply put, UpGrade is Kaizen's fancy word for "homework", but it is so much more than that!
Unlike school homework that will be collected, marked, and "counted" towards your child's final grade in a course, UpGrade work is about practicing new routines and behaviors that will benefit them in reaching their goals in both learning and life. Your child might be asked to watch a particular video, or complete an inventory of their study space, or to try using Cornell notes for their English class for the week.
Similar to upgrading the software on your computer, smartphone, or tablet to improve its performance and allow it to run more smoothly, it is important for your child to complete their assigned UpGrade work each week for maximum benefit of what they learned at their session. This is also a great opportunity for you as a parent to be involved first-hand in the skills your child is learning.
Increased performance and a smooth operating system will begin to show UP in their grades as well!
How often will my child be coached?
Typically, your child will have one session per week, for a duration of 45 minutes to 1 hour.
However, just like the uniqueness of your child's coaching curriculum, you have the opportunity to work with your child's coach to determine a schedule that works best for you and your family.
What happens during a coaching session?
Each individual coaching session will vary, student to student, but you can be assured that sessions are conducted in a very personable and collaborative manner, with plenty of opportunity for discussion and conversation, as opposed to your child being talked "at".
In a one-hour session, you can expect a recap of the previous week, including the completion of your child's UpGrade work. A new skill or topic may be introduced, or perhaps a continuation of one. The session wraps up with the completion of a Student Journal that allows your child to provide feedback on their session, commit to a plan between sessions, and become aware of their next steps.
Your child's Student Journal, along with the ever-growing collection of their Executive Function Toolkit, is housed in Google Drive where you, your child, and your child's coach all have access and can read and collaborate as a cohesive team.
Empowering Brains for Learning & Life
We help your child reach their true potential through neuroscience and coaching their unique strengths and needs for lifelong success.